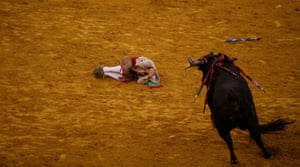 Saw this amazing photograph in The Guardian this morning.
In Spain it still attracts 30 million spectators, every week. This picture is actually taken in Portugal where this isn't supposed to happen because [a] the purpose is not to kill the bull, and [b] matadors are on horseback.
It seems like the same division in Spanish society that occurs throughout the West: the fifty percent blue-collar vs the fifty percent white collar. Think Trump; think Marie LePen; think Farage. When will we ever stop killing animals for sport?